S.F. Bay Area Filmmaker's "The Highway Home" slated to screen at the 2008 Berkeley Video & Film Festival
San Francisco, California , September 1, 2008: "
The Highway Home
," a film by award-winning independent filmmaker, Laurel Hunter, is slated to screen at the 2008
Berkeley Video & Film Festival
. The screening will take place at the
Landmark Shattuck Cinemas
, 2230 Shattuck Avenue, Downtown Berkeley, on
Sunday, September 28th, @ 5:20 pm (
Box Office -
510.464.5980,
Festival Info -
510.843.3699).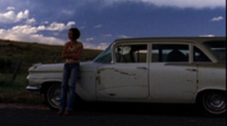 About the film:
Following the journey of a disillusioned teen, this experimental interpretational drama examines relationships born and secrets brought to light in the wake of tragedy and disaster. Themes unfold as a young runaway girl encounters a deluge of strangers whose actions, both generous and unkind, propel her toward a harsh and ruthless fait accompli. This charming and unconventional 16mm film was shot on location in Colorado and transferred to digital media for editing, color correction and special effects. In the spirit of true independent film, it was produced under a Screen Actor's Guild Experimental Agreement, without the assistance or backing of any established industry professional or movie studio. More than 100 artists, crew members, technicians and community members volunteered their time or worked for percentage points to bring this project to fruition.
For more information and to view the movie trailer,
CLICK HERE
.

Erika Frost:
The film introduces Erika Frost who, in addition to her acting pursuits, currently works as a paranormal media personality and resident psychic aboard the Queen Mary. She has been seen on such TV shows as the Sci Fi Channel's "Ghost Hunters," the Travel Channel's "Most Haunted," KCAL Channel 9's "Lisa's It List" and "Tyra Banks." More recently she has been heard on international radio on "Coast to Coast AM With George Norry" and has been featured in various newspaper and magazine articles. Frost has an extensive and award winning theatre background. This is her first feature film.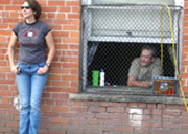 About the Filmmaker:
Originally from Denver, Colorado, Laurel Hunter is a filmmaker, writer, director and actor who lives in Emeryville, CA. Her second feature film, The Highway Home, recently premiered at the 2008 California Independent Film Festival. Her first feature, "Something Better," has been screened at the American Film Institute in Los Angeles (2002), The East Village Cinemas in New York City (2003) with the New York International Film and Video Festival, The Breckenridge Festival of Film (2004) and The Golden Film Festival (2004) where her work was given Best Feature, Best Directors, and Best Actress awards. Additionally, The Berkeley Film and Video festival (2003) acknowledged the film with a Best of Festival award. Hunter, whose roots are in live theatre, has directed numerous stage productions on the East and West coasts, including JP Allen's one man show, "Gambling," at the Victory Theatre in Burbank, which received critical acclaim in the Los Angeles Times and the L.A. Weekly, and has since been made into a feature film winning a Best Feature award at the Telluride Independent Film Festival (2005). Her theatrical collaboration with New York based actor, Bill Smartt (AUNT JACK) ran for three weeks at the 78th Street Theatre in New York City. After developing it with Smartt at the Marsh Theatre in San Francisco, it premiered at the Theatre Rhinoceros Studio Theatre, also in San Francisco. Ms. Hunter received her degree in playwriting from San Francisco State University and has received multiple playwriting awards, including a Lawrence and Lee Playwriting Award, a Highsmith Playwriting Award, and also won the Bay Area Women's Playwriting Competition who produced her play at The Studio Eremos Theatre in San Francisco.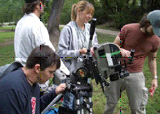 About the Cinematographer:
Tarina Reed has directed photography on four feature films and numerous documentaries, and has photographed notable film stars such as Danny Glover, Elle Fanning, Michael Madison, Wes Studi and Seymour Cassel. As a cinematography intern with the Academy of Television Arts and Sciences and a participant in the Sixth International Student DOP Workshop, she studied under renowned cinematographers James Chressanthis, ASC, Laszlo Kovacs, ASC and Vilmos Zsigmond, ASC. Before relocating to Los Angeles, Reed served in the U.S. Army Reserve for 11 years as a combat photographer in diverse, sometimes hostile environments, including Bosnia, Egypt and Germany. She received a Bachelor of Fine Arts degree in Cinematography from the North Carolina School of the Arts.
Company Background:
Formed by Laurel Hunter in early 2007, Blu Fly Productions (formerly Lucky Dog Films) seeks productions that stretch the boundaries of film as an art form. "The Highway Home" is Hunter's second film project and the first Blu Fly production. The company currently has two films slated for production. Hunter has also recently partnered with Nazareth born award winning filmmaker, Shady Srour (Sense of Need). Together they have formed the production company, World Clique Cinema, dedicated to works that enhance humanitarian and political perspectives of America and the Middle East. Hunter and Srour have one project in development called the Dark of Night.